Lessons in Junk Removal and Disposal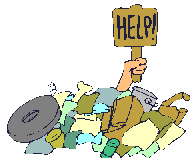 Being faced with cleaning out a household, large or small, can be a daunting experience. What may have first appeared to be a "few weekends to clean it out job" quickly proves to be a "my whole summer will be shot" project that consumes almost every spare minute you have. "I'll give a lot of stuff away" quickly becomes an internship of learning which charities to call, who will take and not take certain items, scheduling pickups weeks in advance (yes, that is actually how it works with many of the larger charities, especially with larger items) and trying to meet with friends and family several times a week all in order to reduce the amount you have to toss and reduce your workload. Or so you thought! Wait, back up, reduce whose workload? It takes a lot of time and many phone calls to arrange free removals, and no-one organization will take anywhere near the total amount of items you need to dispose of.
Even after they agree to take it, you usually have to be there when they pick it up (again larger items), and you still have to get it from downstairs, upstairs, back of the house, etc. to a place of easy access for them out front. Although a few charities will agree to remove items from inside your house, the vast majority will not.
So let's say you have made the calls and had several pickups made from various charities/people. How much work was that? Was it fun carrying that 50 year-old fridge up from the basement? Carrying those bedroom sets down the stairs? Moving the probably hundreds of boxes (they add up quick) out to the garage? Probably not.
Charities are pretty savvy about people trying to stick them with unsalable objects. They have been in this game longer than you and most have strict will/will not take lists. How many Christmas items do you think they want to sit on in July? Be realistic about charitable donations values too. Anything other than small amounts claimed on your taxes is like flagging down an IRS agent at a gamblers convention.
But wait, you are still not near done. Chances are you would be very fortunate to give anywhere near 50% of everything away. 20-25% is even doubtful. Try more like 5-10%. Really. That beautiful old couch that Grandma never let you sit on as a kid may have have been expensive when new and hold warm memories in your mind, but the charities and your friends turned it down because it is in fact now worn out with torn fabric, covered in cat hair and smells like, well you know, Grandma. Let's face it, other people are not looking for furniture that costs hundreds of dollars to reupholster, refinish, fix, or repair. Think a piano or organ is easy to donate? Think again. Sure you may get lucky but realize that piano movers usually start at around $500.00. Not many people want a free piano that costs $500.00 just to move it.
Hmm, $500.00 later, what do I do about that old safe and organ.....
Oh by the way, how many times have you already re-handled many items and placed them in all sorts of piles all over while you try to figure out what to do with them.? You have now entered into the pile relocation program. All a waste of time and effort. Don't expect helpers to be so understanding. Labor wise, you are spinning your wheels. How many times do you think your friends are willing to move that dresser again, or move those bags of clothes again, or the old sewing machine, or heavy box of books?
Making a little progress? So, here you are with weeks of work under your belt, and a house or business still full of junk. Better cancel that vacation right now, it's not going to happen.
Instead, now you have the opportunity to learn about the dumpster business. Again, lot's to learn in this arena. Youch! They get how much per dumpster? And no matter what size dumpster you think you need or how much you think you can jam in it, you will probably be way off. They do look huge when empty, don't they? Heck, you always wanted to learn how to disassemble furniture, knock it all apart, cut it into smaller pieces, especially on a hot or freezing day, right? You were planning to start an exercise program anyway that would build those shoulder muscles up so you can toss things over the 5 feet tall sides with ease, right? Be prepared for when the idea and expense of "we'll get a dumpster" turns into you calling for the 2nd, 3rd or 4th dumpster. Good thing you saved all that money by canceling that vacation !
By the way, I have never found a dumpster company that will discount a dime because you needed more than one. Full cost each time. While it's there for several months, try to appreciate the elegance that a rustic (rusty) 5ooo lb iron box adds to your property. I'm sure your neighbors will notice! Also be prepared to welcome the myriad of dumpster divers that will crawl inside that dumpster, tear open bags, throw stuff on the outside, etc. They seem oblivious to no trespassing signs for some reason too. I'll bet you can't wait to clean up after them every week.
But hold on! How do you get all that into the dumpster in the first place? Who needs a exercise equipment! You do like stairs, right? You love to get down on your hands and knees for endless hours on endless days to fill up boxes and bags don't you? It's amazing what you might find crawling around with you while your down there. Everybody loves company!
Sure does feels good though to get off your knees several times a day to make endless trips carrying those bags and boxes through your building and doorways then out to the dumpster. Sure hope it's easy to get to.
Wait, a chance to make some money! We'll have an Estate/clean out sale!
Bravo, for you. Need to pay for all those dumpsters right? Good, it should only add 2-4 weeks additional work to prepare for. What? Huh? Another 2-4 weeks? Sure. You need to clean everything else out (can't let people trip over the junky junk and sue you) so that people can see the items you are selling. Then you need to borrow lets say 20(?) tables to display it all on. I'm not joking with that number. Better get 25.
Now you can advertise it (easy) and sit there with several other helpers for 2-3 days selling everything. I'm sure your friends and family can't wait for that weekend. Expect "no show" helpers.
So now that it's all gone..uh oh,wait! I still have 50% of what I started with! Better call another dumpster. The dumpster guy knows you by your first name now anyway!
Oh, and just how much money do you think you are going to take in? Really? Forget Antiques Roadshow. Have you actually looked on Craigslist (Not Ebay) to see what things are really selling for in your area? When you do, you need to be priced even less than what they are asking for to get people to come and buy. Why else would they otherwise? Estate sale/garage sale buyers are the smartest shoppers I ever met. They have no problem passing on your Aunt's fine dishes, knick knacks, furniture, tools, etc. because they know the sale they go to next week will have it for half of what you are asking. They are in the drivers seat here, not you. And don't resent them if they buy just to resell later. They are risking their cash on that gamble let alone storing it. I love to recall a situation, someone I knew was preparing for an estate sale and was writing down (what I thought) were high prices. When I questioned the $ amounts he said "well I'm not just going to give it away". Guess what? That's exactly what happened to most of the larger items and a lot of the smaller stuff. In the end, running out of time, it went to charities and the dumpster. Thinks it's worth $50.00? Price it at $40.00, take 15.00 if you gotta'.
My advice about self-run estate sales:
1) If you are doing it for the money, expect a lot less than what you think you will make.
2) You will still end up with 50% or more of the stuff what you started with so be prepared.
3) If you have a lot of really valuable items, hire a pro. They usually get 30-40% of the proceeds. Oh, and you still have to clean out all the other junk first before they can do it. It also means you still have the dumpster costs and all your sweat to fill it. You are still stuck with the leftovers.
It's finally all cleaned out! Congrat's to you. By the way, how much did the additional property taxes, mortgage, rent, utilities, dumpsters, helpers, advertising, food, lost income, cell phone bills, fuel and misc expenses all cost you? How about the weeks/months lost before getting the property ready to but back on the market? Did you forget to add in all your labor? How about that trip to the hospital for your back/hip/knee?
There's a much better solution!
Hire a clean out junk removal service. In a nutshell, you have a problem to solve, and they are there to help you resolve it as quickly as possible. The benefits to you are enormous.
The most obvious benefit is the small amount of time it takes to resolve your situation. What could take you days or weeks to clean out can usually be removed in a matter of hours or a day or two. You are left with a swept floor, no dumpster, friendships intact, family harmony still in place. Your back will forever thank you.
Secondly, chances are, per cubic yard, hiring a clean out service is a much cheaper alternative because they do most of the work! Why do I say most? If you feel there is anything of value in/on the premises, you need to first find and remove those items yourself. Do this before calling any removal company. I suggest that you be absolutely truthful to yourself in this duty. The items near and dear to you are keepers for sure.
(By the way, anything large you want to keep requires movers. Junk removal trucks are not geared for preserving nice objects and are not licensed movers).
Benefit: More stuff, cheaper rates.
Dumpsters cost the same per unit no matter how many you need. Most junk removal companies price per cubic yard goes down with higher volumes, and they are doing the work, not you.
Understand that clean out services give you an estimate or price based upon their costs and the time they expect to complete the job. Unless you want to pay them an enormous hourly rate, they are not going to stand there while you look through every box they pick up. That could takes days or weeks versus hours. Look before you call.
Benefit: It all goes away right now.
Dumpsters may sit for days waiting for removal after you filled them, often while waiting for them to drop off another one in the only space you have to park it. Clean out junk removal companies usually put it all in their trucks and trailers and take it away each day. Your driveway or parking spot stays open.
Note* Some large scale projects may require dumpsters, even when using clean out companies. Clean out service companies often have relationships with the dumpster companies and can obtain better rates. Construction debris is the most common situation that comes to mind. The debris is so heavy that partially loading trucks and trailers due to weight restrictions is not economical to any of the parties involved. In that case, the junk removal company provides all the labor to remove the materials on the site and fill the dumpsters.
But if you just don't want to throw things away because you feel this or that is worth a few bucks, ask yourself the following questions:
1) Right now, Do I have a place to take this object other than here?
2) Are the total value of these items worth paying extended monthly storage fees on? Think hard about this one. After all the work of getting the property empty, you probably will not even look at the stuff in storage for quite some time. Don't worry, the storage place will bill your credit card monthly for as long as you don't want to deal with it. Don't pay? Watch TV to see who buys your stuff! Then all the work to save and store it, let alone the fee's is down the drain.
Benefit: Clean out junk removal services are used to this kind of work. They have the proper knowledge and tools to safely move heavy objects. Save your body. Plus, they are sensitive to your situation.
They understand you or your family may be grieving the loss of a loved one and are respectful in their actions. They realize that the person who called for their services has been given a daunting and overwhelming task to remove unwanted material. They understand that this is sometimes just the first step that a person needs to get past so that they can move on to other responsibilities.
Having well-meaning friends or loved ones help often backfires. Example: Your sister can't pick up any object without commenting "oh, that was your great-grandma's favorite cat's favorite food bowl." Relatives often feel obligated to make you feel guilty for disposing of almost anything that belonged to another relative. They may or may not realize it, but they are just making your hard job even harder by adding tons of emotional baggage. The professionals just stick to the job.
If the clean out is for your business, they respect that your time is valuable and work to be efficient in helping you resolve this project as quickly and as economically as possible. You need the premises cleared out now, not yesterday. Landlords need to get it ready ASAP for the next tenant. The bank sale is next week. Tick, tick, tick, time is short.
Professionals can provide estimates for insurance companies and make sure everything is disposed of in accordance with environmentally acceptable standards. They free you and your workers up for more important work.
So call a professional clean out junk removal service, Put your feet up and start planning that vacation you've been dreaming about!
Further Advice Concerning Hoarders and Hoarding
At Lake Cook Cleanout, Inc. we understand that dealing, supporting and helping a hoarder can be trying times. We are experts is cleaning up hoarder situations and will help you get it done with as little stress as possible. WE realize that cleaning up after a hoarder is traumatic to the individual that is hoarding. Hoarding is a mental illness that needs to be addressed. Cleaning out the mess is just the first step. We will help you get that done quickly and with the best rates. In order to keep the situation calm and be able to work quickly and efficiently, we ask the hoarder be kept away from the location while the work is being performed.
We will meet with you for a consultation on your cleanup, as well as offer suggestions and advise on getting started and ready for the project to begin. Please give us a call to discuss your specific situation.
Hoarding: The Basic Information
Hoarding Disorder results when people are unable to discard unneeded objects and possessions and end up living in an unpleasant and dangerous clutter. People can also hoard animals. Hoarders feel an emotional attachment or responsibility toward the items they hoard and find it very difficult to sort, organize and make decisions about the items that fill their living space. Frequently they intend to do something with hoarded items and may churn their way through the clutter but are never able to to successfully clear the mess. Pressure from family and friends rarely results in improvement and many hoarders go to therapy only because they are being forced to seek treatment. Many families give up hope for a member who hoards because they feel thwarted in their efforts to help, especially after they see a hoarder resume hoarding after a forced "clean out." Cleaning out the garbage, debris and clutter is the first necessary step. The living environment created by hoarding is extremely unhealthy and can result in a variety of physical health problems.
Hoarding: Symptoms
Hoarding disorder affects emotions, thoughts and behavior. Signs and symptoms may include:
Persistent inability to part with any possession, regardless of its value

Excessive attachment to possessions, including discomfort letting others touch or borrow them or distress at the idea of letting an item go

Cluttered living spaces, making areas of the home unusable for the intended purpose, such as not being able to cook in the kitchen or use the bathroom to bathe

Keeping stacks of newspapers, magazines or junk mail

Letting food or trash build up to unusually excessive, unsanitary levels

Acquiring unneeded or seemingly useless items, such as trash or napkins from a restaurant

Difficulty managing daily activities because of procrastination and trouble making decisions

Moving items from one pile to another, without discarding anything

Difficulty organizing items, sometimes losing important items in the clutter

Shame or embarrassment

Limited or no social interactions
People with hoarding disorder typically save items because:
They believe these items will be needed or have value in the future

The items have important emotional significance — serving as a reminder of happier times or representing beloved people or pets

They feel safer when surrounded by the things they save
Hoarding: Treatments
Proper treatment can help families and hoarders learn to overcome the devastating effects of hoarding. Hoarders relapse after forced clean outs unless they are taught new ways to think about objects and how to use living space appropriately. Treatments using motivational interviewing, with individual and group therapy will help hoarders learn to sort, categorize and organize their belongings as they gradually reclaim their living space and learn to live comfortably without clutter. There are many centers around northern Illinois that can assist you with and provide treatment.